The countdown is on. The 4th of July will be here in just a few days, and often, that means backyard BBQs or potlucks that leave you in the need of some recipe ideas that match this festive occasion. Even if that is not in your future, it's always great to have a few tried and true Summer recipes up your sleeve for any occasion. Here are a few of my personal favorites.
Fiesta Bean Salad: If you've never visited the site Skinnytaste, I highly recommend it. Gina has a wonderful array of recipes that vary depending on your dietary needs, cooking method, etc. I've made this salad for so many potlucks, and the bowl always comes back empty. I always love anything you can make ahead.
Grilled Indian Spiced Corn on the Cob: Who doesn't love corn on the cob? It's a classic summer dish, but I recently spiced it up using the variation found in this book. This recipe looks pretty similar. I used a mix of coconut oil and butter instead of ghee.
Watermelon Juice: We posted this recipe here on the HT last year, and it remains a favorite. Some things I love about it: it makes a ton, which is great when feeding a crowd; it doesn't require a fancy juicer, just a blender; unlike most juices, not much gets left behind; it's fun to add things like lime or mint to jazz it up; and the leftovers make great watermelon mojitos. 😉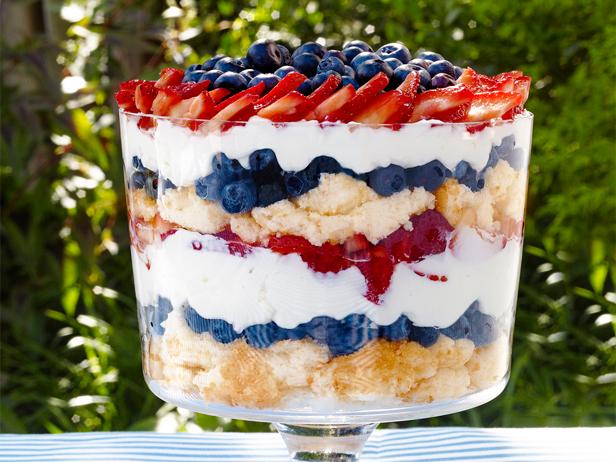 Red, White, and Blue Berry Trifle: I'm a sucker for any dessert with red, white, and blue on the 4th. This berry trifle is easy to assemble, feeds a crowd, and looks so festive! Sold.
Grilled Pimento Cheese Stuffed Jalapeños: One thing about planting jalapeños is that they just keep on giving. This is a great way to put them to use and to please all of the hot food lovers out there. Simply cut the peppers in half length-wise, scoop out the seeds, and stuff with your favorite homemade or store-bought pimento cheese (or goat cheese). You can stop there and refrigerate them if making ahead or go ahead and place them on a grill rack and grill until peppers are starting to char and cheese is melted (about 10 minutes). If you're feeling extra crazy, top with sliced green onions, chives, or with crumbled bacon.
Pesto Potato and Green Bean Salad: There's something about mayonnaise in the hot sun for hours on end that just doesn't sound all that appealing. This mayo-free potato salad is a colorful twist on a classic. It's also a great way to utilize beloved summer basil. This would be great with grilled chicken.
Have a happy and safe 4th!